Flyweight contender Valerie Loureda took to Instagram with an NSFW upload yesterday to silence her haters following a loss at Bellator 259 at the weekend.
The Floridian went to war with Hannah Guy at the Mohegan Sun Arena, Conneticut on Friday night – and despite the fight going the distance, Loureda failed to tip the judges' scorecards in her favour.
Despite landing a knockdown early in the fight, the 'Master' suffered a tough night in the cage and was extremely outclassed in her ground game – almost being submitted in the second round when Guy was able to isolate her arm.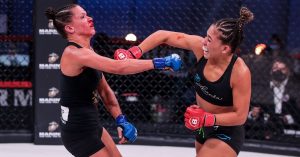 Loureda was fortunately saved by the bell and continued to see the fight out for its duration, but a lacklustre performance led to her being on the wrong end of a unanimous decision.
One judge scored the contest 30-27, and the others saw it 29-28 in favour of Guy who revelled in victory – two in a row now for the 26-year-old fighting out of Columbus, Mississippi while Loureda would suffer her first professional defeat.
But it was the loser on the night who would steal the show in the grand scheme of things, taking to Instagram with a saucy yet sassy post days after the affair.
In a story projected to her 831k followers, Loureda (@valerieloureda) thanked her fans for their support throughout her blooming career, while dismissing her haters altogether.
"I love you guys, I love my fans," an unusually cheerful Loureda broadcasted, adding "Y'all are awesome, fighting is so much fun."
"I feel like a f*cking fighter now…try being in that submission with your arm basically broken for three minutes and not tapping out."
"Thank you so much for the support, and to my haters, all I have to do is just shake my a** to them,"
"Team Loureda to the death!"
Shortly after, she would upload two photos to her account in a post titled 'On to the next'.
View this post on Instagram
The first shows Loureda in a bikini with her back to viewers, an ode to her message for her haters, the second – her staring down the barrel of the camera stone faced, flipping the bird to critics.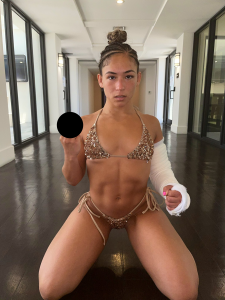 The 22-year-old who has only seen four professional fights so far was showered with words of encouragement and positivity from fans around the world online following the loss, including a motivational message from ex-UFC Strawweight Champion and American Top Team partner Joanna Jedrzejczyk who commented; "Champ! Keep ya head up , keep it calm,"
"I'm coming back next week, can't wait to put on a hard work with ya."
Loureda now sits with a 3-1 record following the bitter defeat at the weekend.