Conor McGregor has reacted to a series of horrific comments that were made from the Twitter account of Kamaru Usman, including threats about his girlfriend.
And he believes Usman's manager, Ali Abdelaziz, is the prime suspect.
McGregor defeated Donald 'Cowboy' Cerrone at UFC 246 in his much-anticipated return to the octagon.
Notorious' emphatic 40 second knockout victory marked the beginning of the Dubliners 2020 fight plans as he looks to redeem himself and climb back to champion status.
View this post on Instagram
 Obscene
But the night's celebrations were marred somewhat by a series of obscene tweets that were made from the account of welterweight champion Kamaru Usman.
The tweets involved racial slurs, threats and obscene comments about McGregor's girlfriend, Dee Devlin.
The tweets read: "Conor McGregor is a Irish pussy, n**** I'll f*** your wife while slapping the f*** outta you punk."
"I'll be raw dogging the f*** outta [McGregor's] wife on gang n****."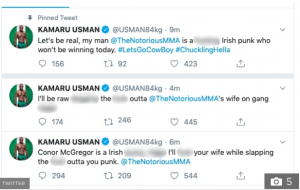 (Image credit: talkSPORT)
'Hacked'
It has since been announced that the 'Nigerian Nightmare''s account was hacked.
Abdelaziz tweeted shortly after: "Guys Kamaru Usman's @USMAN84kg Twitter has been hacked UFC is working on getting it back."
Guys Kamaru Usman's @USMAN84kg Twitter has been hacked UFC is working on getting it back.

— Ali Abdelaziz (@AliAbdelaziz00) January 19, 2020
'Skeptical'
But Notorious is skeptical, and says the 'weasel' UFC promoter is the most likely culprit for the offensive posts.
Speaking at the UFC 246 post-fight press conference, McGregor said:  "One came through early, and it had all the hallmarks of that little f*cking weasel, Ali," 
"They give him control of the accounts; he had [Frankie Edgar's] account, he had [Henry Cejudo's] account."
"This has been going on a while; he gets it and then writes something through their thing."
"I've been in discussion with some of these athletes that come on board and helped them out, and I know exactly what happened."
Abdelaziz is no stranger and has previously been at the centre of the feud between Notorious and Khabib Nurmagomedov.
Their clash in 2018 saw a mass-brawl ensue post-fight which involved both camps, and there's been bad blood ever since.
View this post on Instagram
 Under Control
UFC president Dana White commented on the situation and said McGregor doesn't believe the account was hacked, but the situation is under control for now.
"I called Conor," White said.
"'He got hacked, so don't say anything, don't do anything.'"
"He doesn't believe he got hacked, but we've got no problems," 
McGregor became well-known during his meteoric rise to the top of the UFC for his fiery, confrontational behaviour.
Abdelaziz and Usman's front row seats at UFC 246 therefore could have been a recipe for disaster.
But the Irishman appears to have turned over a new leaf, remaining humble and respectful in the build-up to the fight.
And the ex-champion handled the situation coolly.
"I don't think it was Usman," he commented.
"I don't care, man. I actually don't care. It just had all the hallmarks of your man that's done it in the past multiple times."
"I've been dealing with this a long time, so I know exactly what the sauce is, but whatever."
View this post on Instagram
 Moving Forward
A couple of years ago, fans may have expected a controversial response from McGregor.
But Notorious is more focused on moving forward with his career than anything else right now.
Speaking about his plans to conquer the welterweight division, McGregor said:
"I'm more than ready," 
"I enjoy this division."
"I don't think they're that big."
"At the end of the day, we've got to weigh 170."
"I feel good at 170."
"I'm more than ready for that division."
McGregor has hinted at a Khabib rematch and a bout with Justin Gaethje as his next fights in 2020.
A clash with Jorge Masvidal is also heavily rumoured.
Meanwhile, Notorious' ambitions continue outside the Octagon, with the Irishman planning to become a millionaire before he's 35.
(Featured image source: Instagram/ Conor McGregor and Kamaru Usman)