It seems amongst all the hysteria surrounding Jake Paul and his boxing career, everyone who's anyone in the world of fighting has been involved in the madness somehow.
Whether it's being asked to fight, whether it's being spotted in a front row seat, whether it's weighing in with an opinion or whether it's offering the YouTube star out, most big name guys who have credit in the game have been close to the action at some point.
Ultimately, whether we notice it or not – or like it or not – Paul profits from every single bit of press coverage he gets. That's why he does it. Maybe that's why almost every fighter from past or present, UFC or Boxing
The latest on that list is Chael Sonnen.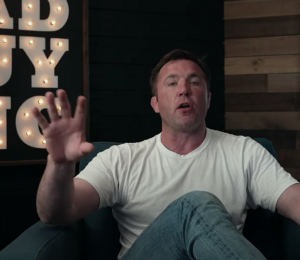 The former UFC star, who retired in 2019, now promotes fights and also broadcasts on YouTube, making money off his podcast-style videos in which he sits and talks to the camera. He uploads very frequently – often multiple times per day.
Five hours ago (at the time of writing), Chael uploaded a video claiming that he'd been offered a fight with Jake by an undisclosed promoter.
His stance on the offer was an interesting one.
'I'll fight Jake Paul if they can guarantee me Mike Tyson.'
'I feel that the one piece of this whole puzzle that's missing is a purpose for doing it.'
'Jake isn't fighting for a belt. He's never going to be. He's not going to represent the country in the Olympics. So if we get Mike involved, it can be a prize for the winner. To fight Mike.'
Tyson, 53, fought in an exhibition bout in November last year against Roy Jones Jr. – his first proper venture into the ring in almost fifteen years. The contest was fought under the rules of no knockouts and no judges scorecards.
Spookily, MMA manager Ali Abdelaziz sent out a tweet reporting that Chael will be Jake's next opponent a couple of hours before Chael's upload – in response to unconfirmed, but heavily reported rumours that Tyrone Woodley will be Jake's next opponent. Chael does clarify at the start of the video that there is a big time discrepancy of a few hours between the time he films these videos and the time that they are uploaded onto YouTube – after editing, exporting and the like.
 The rumors are not true in fact Jake Paul's next fight is going to be against @ChaelSonnen and the winner is going to take on iron Mike Tyson. Nobody has better knowledge of these negotiations than me and I'm telling you everything.

— Ali Abdelaziz (@AliAbdelaziz00) June 1, 2021
Sonnen has previously disclosed his position as a fan of Jake Paul – or at least, a non-hater (which is the opposite stance to 99% of fight fans).
In today's video he says:
'I'm already on Team Paul as you guys know… I've been buying into this guy a bit quicker than other people.'
'Right now, Paul's as good as he says he is. Every time he says how good he is, he steps in the ring and backs it up.'
He also states in the video that he doesn't buy into the Paul-Woodley rumours – instead thinking it may be a different opponent.
He's set to be proved right or wrong within the next couple of hours. Whether it's Woodley or someone else – maybe it is Chael, and he's been bluffing us all along – maybe a fight with Mike Tyson is on the cards! – Jake Paul will add further fuel to the Jake Paul fire and we'll all be watching on to see it, once again.