USADA has really cracked down on what once felt like an epidemic of performance enhancing drugs usage within the sport of mixed martial arts over the years, and has come a long way in deterring fighters from getting a sly advantage through the eye of a needle – so to speak.
Since their partnership with the Ultimate Fighting Championship began on the 1st of July 2015, many athletes have been exposed for using performance enhancing drugs – mainly due to their vigorous testing process which leaves no stone unturned.
With a promise of over 2750 tests per year – and at least five tests per fighter, USADA and the UFC have managed to make combat sports as legitimate as possible for all participants, eradicating any doubt as to whether a fighter's opponent has an unfair advantage in the octagon.
It's also no surprise that with drug testing coming to fruition, the decline of obscene physique has also declined within the sport – you no longer see the likes of roided up Bob Sapp or Kevin Randleman, who both looked like walking clouds respectively.
And since the formation of USADA, steroid abuse within the world of MMA has swiftly declined. Fighters who have been caught out due to their steroid abuse have been reluctant to repeat their past mistakes due to harsh and hefty bans bestowed upon them.
Former Bantamweight Champion TJ Dillashaw who has just finished serving a hefty two year ban for using EPO, as well as Yair Rodriguez – who found himself in hot water with USADA for failing to disclose his location for random testing – have both been announced for UFC main events this week, so we thought it would be fitting to recap some of the most notorious cases of fighters who were found guilty of using performance enhancing drugs, and the consequences of their actions.
🚨 OFFICIAL 🚨

The Blessed Express collides with El Pantera in July

[ @BlessedMMA | @PanteraUFC ] pic.twitter.com/RADX2Tatm3

— UFC (@ufc) May 27, 2021
TJ Dillashaw:
Dillashaw pee'd hot following his bout with then Flyweight Champion Henry Cejudo back in January 2019.
The Sandman, who was the UFC's Bantamweight title holder at the time was pursuing Cejudo's strap to gain access to the promotion's 'champ-champ' club – a feat only achieved prior to this by Daniel Cormier, Conor McGregor and Amanda Nunes.
However, it would be Cejudo who would revel in the prestigious status after Dillashaw was handed a lengthy two-year ban for testing positive for recombinant human erythropoietin.
Dillashaw would ultimately be stripped of the title as part and parcel of the punishment, and Cejudo would snatch the vacant title at UFC 249 after defeating Marlon Moraes with a flurry of violent hammerfists in the third round.
Karma's a b**** right?
Cris Cyborg:
BREAKING NEWS – Jacked up woman accused of steroid use for years tests positive for steroid use…
Cristiane Justino Venâncio better known as Cris Cyborg popped for Stanozolol in 2012 while fighting for Strikeforce – a promotion which the UFC would soon after buyout and dissolve.
Cyborg's excuse for using the anabolic steroid was that she was having trouble cutting weight for a fight with Hiroko Yamanaka, and that it must have came from a dietary supplement that aided the process. However, the California State Athletic Commission found that the steroid would never be found in any weight loss supplement period.
Thus, Cyborg's ruthless 16-second knockout over Yamanaka was overturned as a no contest, she was handed a one year ban from the sport, and also handed a $2500 fine for her actions.
Despite not testing positive since, many still hold a stereotype over Cyborg for her past conviction, including superstar Ronda Rousey who dubbed her as 'Not even a woman anymore',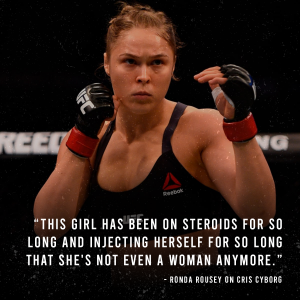 Alistair Overeem:
It comes as no surprise that Alistair Overeem has positive for performance enhancing drugs at some point or another in his career, as the 6-foot-3 Dutchman once looked like he was carved from pure stone.
During the week leading up to a Heavyweight title shot against Junior Dos Santos in May 2012, 'Ubereem' was found with heightened levels of testosterone in his system – in fact, more than double of what the Nevada State Athletic Commission deems acceptable.
Overeem subsequently withdrew from the fight and was replaced by Mir, but no further action was taken against him as USADA couldn't put the case down to a banned substance, and just kind of accepted that he had heightened testosterone in his system due to anti-inflammatory medication his doctor prescribed him.
Overeem then prepared a statement addressing the issue, pleading his innocence while addressing his neglectful stance on correctly researching medication.
"I absolutely do not believe in, nor do I use performance-enhancing drugs," the statement read, continuing; "I am a clean fighter and I will do whatever it takes to prove this to everyone.
"My doctor prescribed, and I accepted, an anti-inflammatory medication that was mixed with testosterone,"
"I was completely unaware that testosterone was one of the ingredients in the medication. Although I was unaware, I do realize it is my job to know what I am putting into my body."
Brock Lesnar:
While the WWE other organisations in the world of professional wrestling have their own regulations and governance on steroid use, the general consensus is that it shares the same views as the world of mixed-martial-arts, and fines and suspensions are handed out in accordance.
Brock Lesnar was one of the first WWE superstars to make the transition into the world of MMA citing a new chapter of his career – after all, he has a stellar collegiate wrestling record and he's built like a tank.
And the 'Beast Incarnate' was fairly successful when he made the jump over to the UFC, putting the likes of Frank Mir to the sword and even stealing the Heavyweight title from Randy Couture.
However, due to arousing suspicion at his sheer size and mass, the former WWE superstar was subjected to rigorous testing processes by USADA throughout the years, and after a 2016 win over everyone's favourite Kiwi Mark Hunt, Lesnar came back positive for clomiphene – as well as its metabolite, 4-hydroxyclomiphene.
USADA struck hard with a year-long ban, overturning his win over Hunt to a no contest, and the fighter hasn't fought for the promotion since.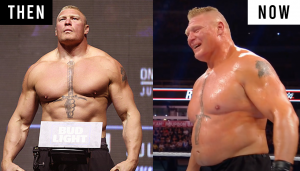 Wanderlei Silva:
'The Axe Murderer' is no doubt one of the biggest products to ever come out of Japanese promotion Pride FC, with his exciting fighting style, ridiculous professional record and vicious ability to knockout opponents.
However, Wanderlei was also a victim of one of NSAC's biggest decisions in history, after they handed the Brazilian legend a lifetime ban from the sport in 2014.
Their reasoning for the audacious ruling – as well as a pricey $70,000 fine – was because Silva allegedly ran away from a USADA representative who was requesting a random drugs test in the build-up to UFC 178 where he was due to face Chael Sonnen.
In hindsight and after a successful dispute, the lifetime ban was decreased to three years and the fine was lifted, but the fighter has been inactive with the UFC now since 2013.
Vitor Belfort:
Testosterone replacement therapy – otherwise known as TRT – has been a cagey subject for the UFC over the years. Uncle Dana's company has not only been found guilty of allowing fighters such as Vitor Belfort to fight while abusing TRT, but have also suffered accusations of downright promoting it.
That is until the Nevada State Athletic Commission announced a ban on the practice in November 2014, forcing the UFC to follow suit.
While Belfort was never banned or fined for his use of TRT, 'The Phenom's' consequence was a drastic transformation in terms of physique, as he vowed to continue fighting under the UFC umbrella without the procedure.
It's scary looking back at Belfort's shredded shape from the mid 90's through to 2013, and then his return in 2015 to fight Chris Weidman for the middleweight strap, looking like a middle-aged dad.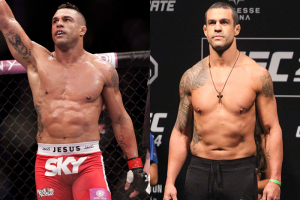 Jon Jones:
Jonny Bones' career has been jam packed with controversy from start to finish, from his 'illegal' elbows against Matt Hamill spoiling his flawless fighting record, to his 2015 hit-and-run incident leaving a pregnant lady with a broken arm.
It's no surprise then that Jones finds himself on this list due to steroid use not once, but twice!
The first was on the run-up to UFC's 200th event in July 2016, in a Light Heavyweight title fight between Jones and Cormier. Three days before the milestone event was scheduled to take place, Jones tested positive for banned substances in hydroxy-clomiphene and a Letrozole metabolite. This revelation not only forced Jones into a one year ban from USADA but also nearly collapsed the prestigious altogether. Luckily Dana and his match-makers managed to conjure up a breath-taking replacement main event in Miesha Tate and Amanda Nunes to save the show.
You'd have thought that Jones would have learned from this mistake, but in yet another bout with DC at UFC 214 in July 2017, Turinabol would flag up in his system post-fight landing the New York native in even more hot water.
USADA come down with the hammer hard and sentence 'Bones' with a four year ban due to the repeat offence, but the ban was reduced to 18 months after he was proven innocent for the intent to take the banned substance. In the end it all came down to a different kind of enhancement pill that he bought from a gas station…if you catch our drift, and USADA seen it as an honest mistake.
Nick Diaz:
The case of Nick Diaz's brutal five-year ban from the sport of mixed-martial-arts is a fairly peculiar one, and it's notable that the reason for his sentencing doesn't come down to steroids.
Cult fans of the Nick and Nate Diaz will know that they're quite fond of 'herbal remedies' in day to day life, and older brother Nick found himself in trouble with the Nevada State Athletic Commission due to multiple failed drugs tests in 2015 on account of this.
Not only did the commission sentence Nick to an absurd five-year suspension from the sport due to recreational marijuana use, as well as a nasty $165,000 fine to be paid – but they also banned him from cornering his brother Nate at UFC events.
Their reasoning – NSAC explained that marijuana can be used to numb the pain a fighter feels throughout a bout, and can also be used to aid recovery.
Many within the sport took to social media to vent following the ruling including the likes of Ariel Helwani who Diaz once referred to as an 'instigator' of drama.
Nick Diaz suspended for 5 years for marijuana. Absurd how they got to that. This is a dark day for combat sports.

— Ariel Helwani (@arielhelwani) September 14, 2015
Anderson Silva & Nick Diaz failed drug tests after their fight in Jan. Silva was banned for a year for PEDs. Diaz got 5 years for marijuana.

— Paul Dollery (@PaulDollery) September 14, 2015
It's now been six years since Diaz's ban and the time on his suspension is well and truly expired. However, at 37 years of age and with no intentions of returning to the sport due to many a dispute with promoters and commissions over the years, it looks like his career ended on September 14th 2015.
Do you believe Diaz's sentence was justified, or blown way out of proportion in comparison to steroid users?