Heavyweight boxer Tyson Fury has announced his intention to log off social media to focus on training for  his trilogy fight with Deontay Wilder on July 24th.
The 32-year-old looked in good health in a picture he posted to his Instagram last night, asking everyone to 'refrain from contacting him' as he prepares for the bout.
The Gypsy King usually likes to create quite a commotion on social media.
few body shots for wilders skinny body. #destroy #2021 pic.twitter.com/N1b1WPma7V

— TYSON FURY (@Tyson_Fury) May 29, 2021
He's recently been on Twitter to stir the pot with Wilder, engaging in some classic Fury trash talk and posting videos of him working the bag.
It's not the first time Fury has said he's coming off the socials.
He previously pledged to 'give up 'Instagram and Twitter', along with 'fizzy drinks', for the Catholic tradition of Lent earlier this year in an interview ESPN.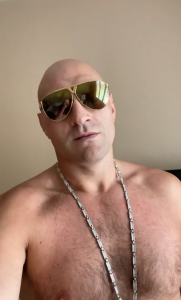 But within a few hours of the interview being aired, he was back online to call out world heavyweight champion Anthony Joshua.
A fight between the two Englishmen looked close in recent months, but a recent court arbitration has ruled that Fury is legally obliged to complete his trilogy with Wilder before any agreement can be made over their clash.
It was eight weeks yesterday 'til the Wilder fight, which sees the two heavyweights square off for the third time. Their first encounter, in late 2018, ended in a draw; the rematch in February 2020 saw Fury take home the spoils after Wilder's corner threw in the towel.
While some fighters wouldn't miss the opportunity for a war of words online before a fight, Fury is showing his dedication to putting this saga to bed with this move. It's all too easy in the modern age to get distracted by the constant murmur of the internet, so it's quite possible that Fury is doing himself a big favour with this move.
What do you think? Will he stick to it?