YouTube star Logan Paul last night proved the boxing community wrong by lasting eight rounds in the ring with unbeaten ex-champ Floyd Mayweather.
The 26-year-old internet personality would've been more than aware of the heavy scepticism his bout with the superstar athlete had got beforehand, but didn't let the opinions of the public sway him when it came to his fighting.
Paul put on a solid showing of resilience, determination and sportsmanship in Florida, and despite the fight not being scored – in the same way that Mike Tyson and Roy Jones Jr.'s exhibition back in November wasn't – Miami Gardens was packed to the rafters, swarming with fans eager to clap eyes on the two famous names.
Due to the lack of a judge's scorecard, no winner was declared – but a knockout would have been completely legal – IF either fighter had landed the killer strike.
44-year-old Mayweather is no spring chicken any more – but his years of boxing bouts and his relative age seemed to provide no cause for concern. Despite not landing a knockout blow, the veteran looked swift and light on his feet in the ring, exhibiting the same sort of movement and speed that would've adorned his early fights. There is 18 years between the two fighters, but Floyd – despite sporting the large beard that we've become accustomed to seeing on him over the past month – certainly didn't show his age.
Punters generally agreed that the bout wasn't the greatest spectacle.
Paul came forward with a flurry of punches that were generally well blocked by Mayweather at the end of round one, but the rest of the fight was characterised mainly by Paul clinching as a survival tactic. Mayweather landed a flew signature left hooks and a few decent body shots, but Paul's massive height advantage and stern defence saw him last it out until the very end.
Some news outlets painted the result as negative for Mayweather – with headlines stipulating that he 'failed to beat' the viral sensation.
But Mayweather himself was full of praise for Paul after the fight, quipping that Paul was 'better than I thought he'd be'.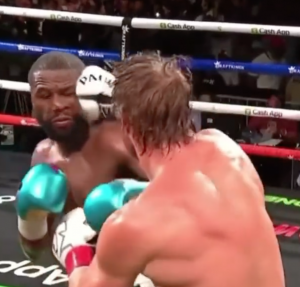 Arguably the biggest boxing event in the past two years, the event was never far from the spotlight – and had it's fair share of critics. Many people, most of whom have held their stance since the very start of the 'Youtube Boxing' phenomenon, argued that the fight was doing a 'discredit to the sport of boxing'.
Ultimately, it was for the money – Mayweather himself claimed he was netting £35m for the fight, with Paul bringing home a bit less – but the fact that Mayweather failed to put the fight to bed may be an indicator that Logan Paul shouldn't just be a laughing stock when it comes to boxing.
Alright, Floyd may have been in cruise control – and might've been taking it easy, avoiding any flamboyant moves in the knowledge that he was about to stack up a mountain of cash – but Paul gave him a decent run for his money, and didn't look out of place in that ring.
The fact of the matter is, boxing takes heart, endurance, fighting spirit and training.
Logan Paul played American football and wrestled to a high athletic standard, so there's no doubt he has the athletic ability to compete. And when it comes to boxing, has he not now proved his mettle?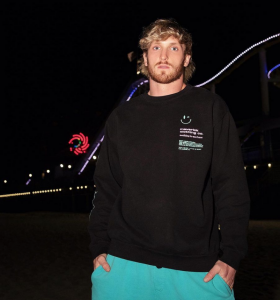 It's clear that both Logan and his brother Jake Paul are taking their boxing careers incredibly seriously. And just because their primary source of income is something completely separate to sport, and they started late – who's to say they can't box? Who's to say that Jake Paul couldn't become the best boxer in the world?
It remains to be seen how the Pauls fare when they come up against better opponents in serious competition. Jake Paul is still testing the waters with his fight against Tyrone Woodley – and in some people's opinion, it's another tactical choice of opponent – someone who he genuinely thinks he can beat. At the moment, he seems to be avoiding any actual boxer – or anyone who he reckons will be impossible to contend with.
And it's a good idea. He probably makes more money from one fight night than he does from YouTube in three months. Both Jake and Logan are effectively the money men in boxing at the moment – and their PPVs will gross significantly higher than many of boxing's biggest stars at the moment – simply because it gets regular, non-fight fans to tune in.
Maybe in time though, he'll move onto the bigger names, and people will start to see him as an actual boxer – as opposed to a wannabe.
With enough commitment and hard work, some might say anyone can be whatever they want to be – and while the Paul's first priorities will probably always be their entertainer status (and their bank accounts), if Jake Paul does decide he wants to pursue this career full time… is there anything to stop him?