It's relatively safe to say that the National Hockey League (NHL) isn't a family friendly franchise – mainly due to the fact that ice hockey actively incorporates fighting as a part of its game despite not being classified as an actual 'combat sport' like boxing or MMA.
In fact, if you asked anyone on the street what they thought about ice hockey, they would probably bypass all of the skill it takes to play the game and instead talk mainly about the violence which ensues from game to game.
In an NHL match-up between the New York Rangers and the Washington Capitals last month, that stereotype was well and truly blown out of the water when an all out riot practically ensued within the first second of play.
We're not even joking, the gloves were dropped before the puck.
Three fights took place simultaneously at the prestigious Madison Square Garden as the first horn sounded – in which Nic Dowd, Carl Hagelin and Garnet Hathaway went blade to blade with Kevin Rooney, Colin Blackwell and Phillip Di Giuseppe respectively before being sent to the sin bin. Then 50 seconds in the fourth fight of the game began when Brendon Smith got into an altercation with Tom Wilson.
Just after the four minute mark, two more fights happened in motion with each other – when Lars Eller and Michael Raffl took on Ryan Strome and Anthony Bitetto.
The first period of play finished with over 100 penalty minutes – which is actually crazy, considering the average amount of penalty minutes for an ENTIRE NHL GAME is 8.17 according to ESPN Figures.
It all comes down to a shady backstory which carried over just two nights prior, when the Capitals' captain Wilson found himself in the firing line of mass scrutiny by the press and following fans around the world.
Wilson ruthlessly punched Pavel Buchnevich in the back of the head, despite the player already being grounded – and then proceeded to slam Artemiy Panarin to the ice, pulling his hair and following up with some nasty shots while his helmet was off.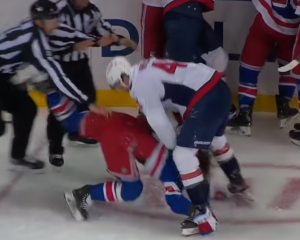 The NHL failed to see any problem with Wilson's actions, therefore the beef carried over to the next match-up between the sides – a mere two days later in which this all out riot unfolded.
You can watch the full video below:
Ice Hockey is a hell of a sport right?