One way or another, if you don't live under a rock, you might've clapped eyes on this image a couple of times over the past few weeks.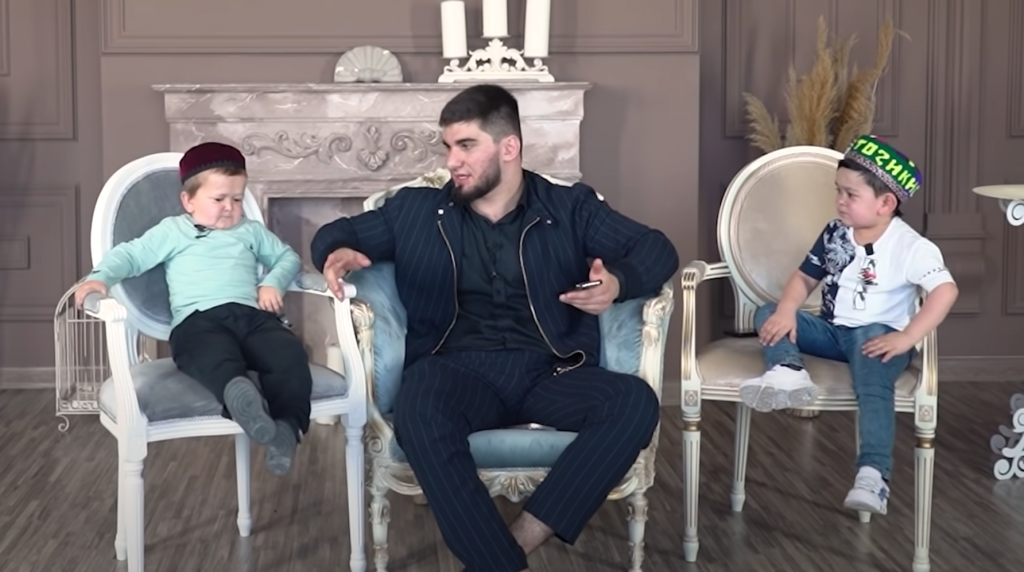 At first glimpse, it looks like a mediator preventing two children from going all out against each other in a raging staredown.
But all isn't what it seems.
What's actually going on?
The video of the square off between the two has been the subject of weigh-ins (pardon the pun) from various big names in the fight game recently, all of whom have been chiming in on whether they'd pay to see the scrap between the two guys involved.
But you'd be forgiven for not actually understanding the concept of all this – or what the video is even purporting to. That's cause it's all in Russian.
Let us simplify it for you.
The guy in the middle is Ashab Tamaev – a Russian YouTube star. His channel seems to be based around his own fighting career and other videos of face-offs between him and his opponents.
He's got 1.75 million subscribers.
I'm sure we're all aware by now of the influence that these YouTube stars can have – and the lengths that they will go to for a bit of internet fame. Think Jake Paul, for example. They've all got some wacky tactics to ensure a few million views come trickling their way.
It seems Mr. Tamaev's plot is to employ the assistance of the two 'children' we see in the photo. The video purports to be a 'press conference' of sorts – a UFC style last chance for the two guys involved to spit some venom in each other's faces for the last time before the main event.
What's the main event? It's a fight, apparently.
Yep, simple as that. The video you're seeing is of a pre-fight stare-down between two Russian children.
But wait… there's more.
Children fighting? It's funny, dramatic, and is certified to cause controversy. In fact, that's exactly what's happened. Every Tom, Dick and Harry who is a smidgeon interested in MMA, boxing or any other combat sport seems to have voiced their opinion on the subject, whether it's UFC star Darren Till saying he'd pay 'good money to see the fight' or the Russian Dwarf Athletic Federation condemning the whole debacle entirely.
View this post on Instagram
The one defining factor, however, in all of this, might startle you.
They're not actually children.
Yep, that's right.
The two men involved are Hasbullah Magomedov, an 18-year-old Russian national, and 17-year-old Abduroziq, from Tajikistan.
We're not joking.
Despite the obvious assumptions you could make of the two individuals, based on their height, their voices and facial structure, both guys are all but adults. Not much is known about the background of the two, despite their relative separate individual fame, so there isn't much information online about which genetic condition may have caused the two new-found superstars to look and sound much younger than they are.
Magomedov, the man on the left of the screen, has perhaps benefited the most out of the men involved virally. Recent photos of him and former UFC champ Khabib Nurmagomedov on the latter's Instagram have only served to bolster his internet reputation, so much so that he's now better known to most people by his adopted moniker 'Mini Khabib.'
View this post on Instagram
Despite seeming to the West that these two have appeared out of nowhere, they'd both already established their own fame back in their home countries. Magomedov had appeared on Tamaev's YouTube channel multiple times previous to this, starring in videos of him being tied up to dozens of helium balloons in an attempt to get him to fly amongst other comedic clips.
The other man is Abduroziq. Like Magomedov, he's had his own fair share of fame back home, but as a singer, rather than a viral sensation.
So when's the fight?
Well, apparently it's already happened.
Supposedly, the bout took place on 18th May, but because of the 'controversy' surrounding the entire event, the footage hasn't been aired yet.
From a marketing and business perspective, there's no reason why the fight wouldn't have taken place. Millions of viewers are bound to tune into the footage; similarly, they would've watched a live stream take place. But we're skeptical.
If our YouTube friend Mr. Tamaev couldn't get a license for the fight to take place, it might not've happened. In fact, we think it might not have been in the plan at all. After all, if you watch the press conference with English subtitles, it all does seem relatively blown out of proportion, and maybe a little bit staged.
Chances are, these two don't even hate each other. The shock factor of a potential spectacle such as this is enough to draw viewers into any number of previews anyway.
And by that point, the money's probably been made.
What do you think? Are they actually going to fight? Or is it all just a publicity stunt?