Unless you've been living on Mars for the last three or so months you'll surely have heard tomorrow's up and coming exhibition bout, which will see one of boxing's most decorated fighters take on an ever controversial YouTube sensation.
That's right, we're talking about the eagerly anticipated match-up between Logan Paul and Floyd Mayweather, which is set to kick off at a capacity Hard Rock Stadium in Miami, Florida in just over 24-hours time.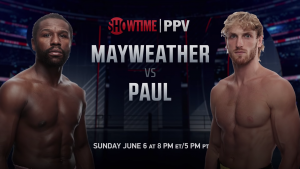 Although YouTube sensations taking up combat sports is beginning to sound like a broken record, there surely hasn't been a fight of this calibre before; the only thing that comes close is Mayweather's 2017 dismantling of Conor McGregor when the Notorious one momentarily jumped ship.
…but with that being said, at least McGregor had a stellar sporting background.
Paul however goes into this bout with a professional boxing record of 0-1, his only prior fight in 2019 against fellow YouTuber KSI which resulted in a split-decision loss when the six round contest finally came to a close.
Which is why many elite boxing fans are backing Floyd Mayweather to make light work of Paul tomorrow night, maintaining his flawless professional record of 51-0 (including his previous Japanese exhibition bout against Tenshin Nasukawa).
However, spoilers have happened in the past with regards to combat sports, and will no doubt continue to happen in the future.
Just look back to the 11th of February 1990 when James Douglas destroyed Mike Tyson regardless of Iron Mike being a -4200 favourite going into the fight, or in more recent years when a severely underrated Andy Ruiz Jr put British superstar Anthony Joshua to sleep in the 7th round of their 2019 showcase.
And while Mayweather has the experience and wisdom of the sport, Paul has the advantage when it comes to both youth and size – 18 years younger than 'Money' and six inches taller.
Paul also has a considerably longer reach than Mayweather – outstretching the veteran by four inches – which could be a potential problem, as the 'Pretty Boy' prefers to fight from the outside and keep his opponents at bay with his own jab.
View this post on Instagram
Undoubtedly, fans of both YouTube and boxing around the world will be tuning in to watch the chaos unfold live and direct.
The Purse:
Last month Paul revealed that he would take home almost $20 million from the fight alone, whereas Mayweather would be taking home five times that amount in $101 million. That of course, is excluding lucrative sponsorship deals which will line the two fighters' pockets further.
According to sources the YouTube star is alleged to have a net worth of $20 million as it stands, so Paul will be looking to double that after Saturday night's proceedings. Mayweather on the other hand – who goes under the moniker 'Money' for good reason, claimed to be valued at more than $1.2 billion going into the fight on the Million Dollaz Worth Of Game podcast.
"I can fight a fighter right now and I can guarantee myself $35 million. I can eventually probably make $50 million, for just a regular fight," Mayweather also said in a recent interview, adding; "Or me and Logan Paul can go out, entertain, have fun and make nine figures – $100 million or more."
View this post on Instagram
The Odds:
In the UK, many bookies have prices for Mayweather to win outright at 1/7 – whereas the same sites have a Paul victory at 4/1, with an elusive majority draw as high as 9/1.
Stateside, betting sites have Mayweather as a generous -900 favourite, with Paul trailing behind at +500.
However, don't let the odds fool you – Paul has been a favourite throughout fight week, with 61 per cent of punters wagering him to see victory when the fight comes to a close.
34 per cent have decided to back Mayweather to take home bragging rights, and a mere 5 per cent of gamblers have took a punt on a draw between the two.
Full wagering information is available at Oddschecker.
The prediction:
Despite Paul potentially causing problems for Mayweather when the two meet in the squared circle, we just can't see an internet sensation doing the dirty over the GOAT of boxing. We have it as a fourth round knockout in 'Money's' favour, what about you?