The President of France, Emmanuel Macron, has been slapped in the face while on an official visit in his home country.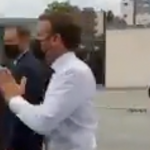 A Twitter user posted the footage at 1:15PM UK time, showing the attack on the 43-year-old as he stopped at a barrier to talk to onlookers in Tain l'Hermitage.
The politician, who was wearing a black mask as he greeted a largely peaceful and welcoming crowd, was dragged away from the scene after the assailant raised his hands at him.
According to French linguals, someone shouted 'down with Macronism' just before the slap was dealt – an indication of the fact that it may have been a politically-provoked attack.
Despite being surrounded by suited bodyguards, the offender, wearing a green shirt and a face mask, managed to complete the action without any intervention, before security eventually rushed in.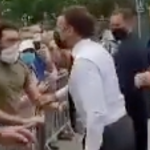 Even Mr. Macron must not've been expecting it, the President being caught completely unawares by the surprise assault.
Luckily, the slap did not seem to land with much force, meaning hopefully Macron, while shook up, will be able to continue with his tour of the area as planned.
The video has always made it to the front page on many news-based websites around Europe, despite only surfacing two hours ago.
Emmanuel Macron has been the President of France since 2017 when he succeeded Francois Hollande.
You can watch the video below.
Someone just slapped France's president Macron lol wtf pic.twitter.com/ZmlCXLj3Rn

— mx (@MessiMX10i) June 8, 2021