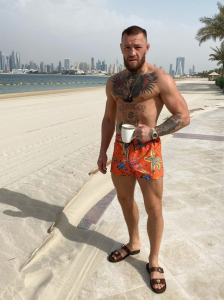 Way back when, a long time before all the hype and the furore and the fame, there was a young man in Ireland called Conor McGregor.
Having been born in Dublin in 1988, he started boxing at the age of 12, and picked up MMA at around the age of 18 in 2006.
Despite being quite late to the game in beginning his Octagon career, the fiery prospect was quick to make up for lost time, catching up and overtaking his peers in terms of skill, dedication and ability. It was all down to his love affair with the sport.
We all know what became of his career – but what of before the glitz and the glory?
It was a long road to the top for McGregor, as it is for any UFC fighter.
So we've dug through the archives and found a video of what claims to be his first MMA fight, way back in 2007.
Clad in what looks like a pair of swimming shorts that reach his knees, the fresh-faced Conor takes just under a minute and a half to put paid to his opponent, finishing him with a flurry of clinical punches in the first round.
One noticeable difference with young McGregor is the lack of tattoos – not even the distinct back tat that runs down the length of his spine is visible in this video – which gives an indicator of just how old the clip is.
Putting his boxing skills to good use, he dodges a couple of takedown attempts and lands some clean strikes on his opponent, leaving the referee no option but to call a halt to the contest.
McGregor spoke of the fight on his Twitter account not too long ago, in response to a tweet by MMAHistoryToday, who reposted the fight on it's 13th anniversary – 17th February 2020. He confirmed that his opponent was Kieran Campbell, a fellow Irishman, and referenced the history between the two family heirlooms.
McGregor vs Campbell. It was only right that my debut mixed martial arts fight was against a Campbell. The McGregors have been fighting the Campbells since the highlands. Sworn enemies at a time. Nothing at this time.
It showed me then that the path I was on, was correct. ⚔️

— Conor McGregor (@TheNotoriousMMA) February 17, 2020
Note that it was an amateur MMA fight as well – meaning that this was his first step into the ring in and MMA fight in ANY capacity – and the fight is not listed on his record.
Watch the video below.
He's got some good hands for a newbie, eh?